Weather Radios Save Lives
NOAA Weather Radio
. . . the voice of the National Weather Service
NOAA Weather Radio (NWR) broadcasts National Weather Service warnings, watches, forecasts and other hazard information 24 hours a day. Known as the "voice of the National Weather Service,"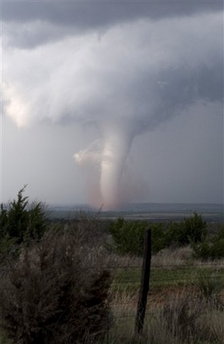 NWR is provided as a public service by the Department of Commerce's National Oceanic and Atmospheric Administration. This site offers detailed information on Warning Alarm Policies, including alarm tests. Weather radios equipped with a special alarm tone feature can sound an alert and give you immediate information about a life-threatening situation. During an emergency, NWS forecasters will send out a special tone to activate weather radios in the listening area. The hearing- and visually impaired can get these warnings by connecting weather radios with alarm tones or other such as strobe lights, pagers, bed-shakers, personal computers and text printers.....What's the Weather like?.....Thanks to NWR, you'll always have the answer as well as access to potentially life-saving emergency information whenever you need it. When you purchase a NWR receiver, you are purchasing part of the National Weather Service network. The network is constantly upgrading its technology to provide the best weather reporting service possible for the nation. For less than the cost of a new pair of shoes, you can own a weather radio that provides instant access to the same weather reports and emergency information that meteorologists and emergency personnel use information that can save your life!
Public safety experts agree: the receivers should be standard equipment in every home.
NWS Norman To Conduct Two Weather Radio
Alarm Tests Each Wednesday
Beginning Wednesday, April 18th, 2007, the National Weather Service in Norman will test the weather radio warning alarm feature at two different times every Wednesday. Tests of the warning alarm will be conducted each Wednesday around noon, and again on Wednesday evenings around 7PM. The evening test is being added to help those who are away from their radios during the midday test to ensure their radios are working properly. Either test may be canceled if there is a threat of hazardous weather in the area. The National Weather Service encourages everyone to use weather radio to receive life-saving warnings and other information from the National Weather Service in Norman. The warning alarm precedes tornado and severe thunderstorm watches, and tornado, severe thunderstorm and flash flood warnings, as well as other emergency messages, and is designed to activate specially designed weather radio receivers, providing audible and/or visual warning signals to homes, schools and businesses in the path of the storm.
More
Weather Radio Coverage Area